Get all the quick facts you need to know before your pharmacology exam.
Medication Classifications You'll Need to Know
Antacids – Reduce hydrochloric acid located in the stomach.
Antianemics – Increases the production of red blood cells.
Anticholinergics – Decreases oral secretions.
Anticoagulants – Prevents the formation of clots.
Anticonvulsants – Management of seizures or bipolar disorders.
Antidiarrheals – Reduce water in bowels and gastric motility.
Antihistamines – Blocks the release of histamine.
Antihypertensives – Decreases blood pressure.
Anti-infectives – To get rid of infections.
Bronchodilators – Dilates the bronchi and bronchioles.
Diuretics – Increases excretion of water/sodium from body.
Laxatives – Loosens stools and increases bowel movements.
Miotics – Constricts pupils of the eye.
Mydriatics – Dilates the pupils.
Narcotics/analgesics – Relieves pain.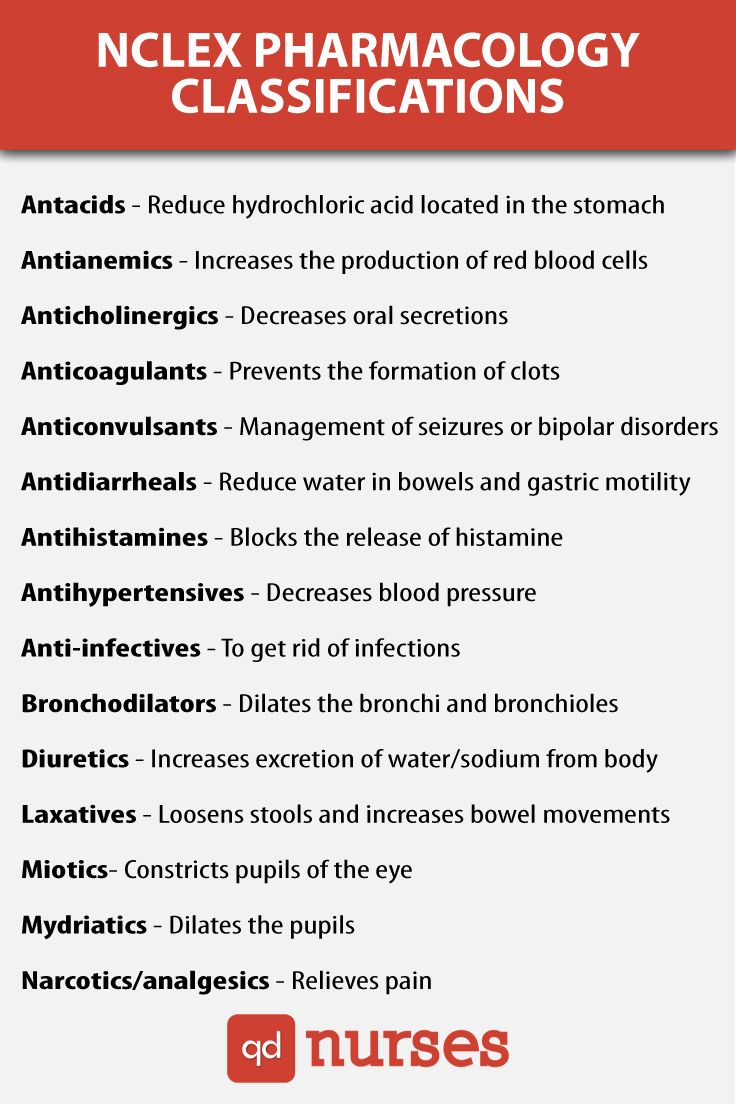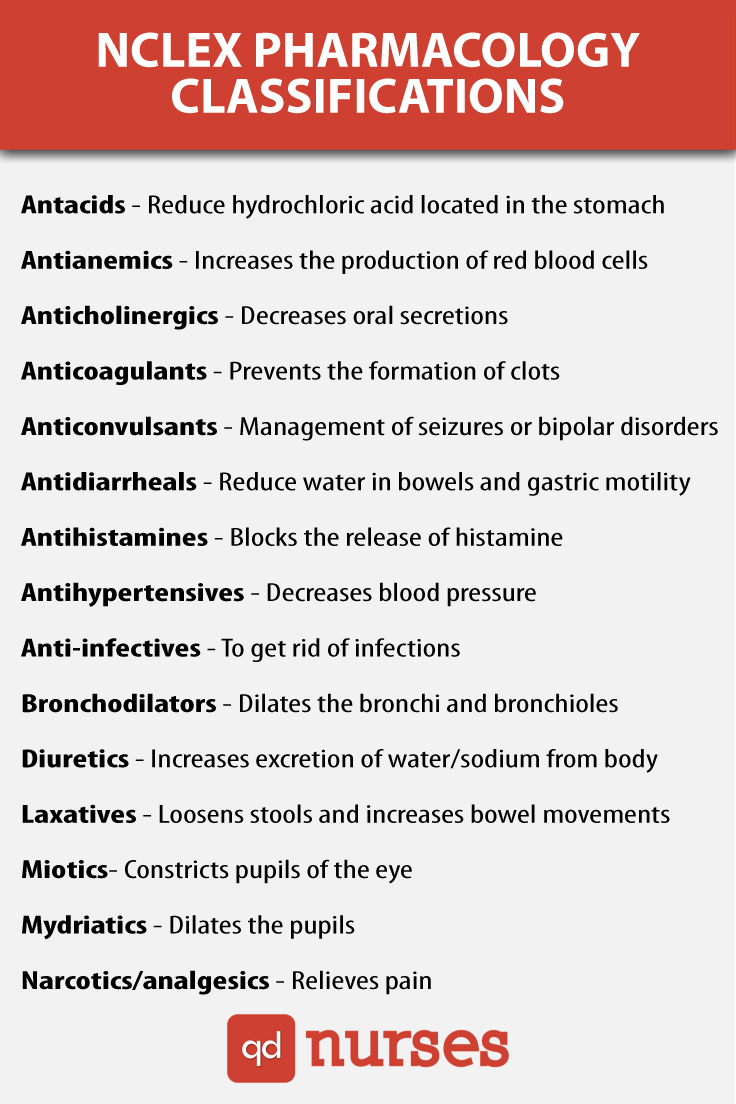 NCLEX Pharmacology Medical Suffixes
-amil = calcium channel blockers
-caine = local anesthetics
-dine = anti-ulcer agents (H2 histamine blockers)
-done = opioid analgesics
-ide = oral hypoglycemics
-lam = anti-anxiety agents
-oxacin = broad spectrum antibiotics
-micin = antibiotics
-mide = diuretics
-mycin = antibiotics
-nuim = neuromuscular blockers
-olol = beta blockers
-pam = anti-anxiety agents
-pine = calcium channel blockers
-pril = ace inhibitors
-sone = steroids
-statin =antihyperlipidemics
-vir = anti-virais
-zide = diuretics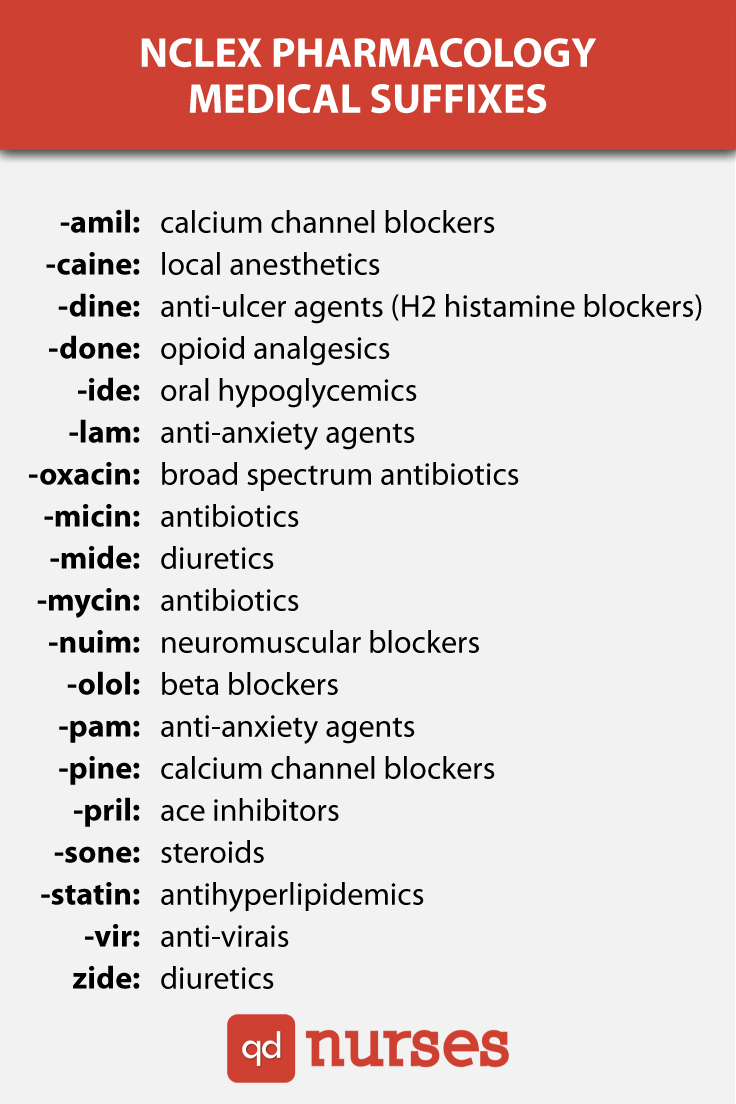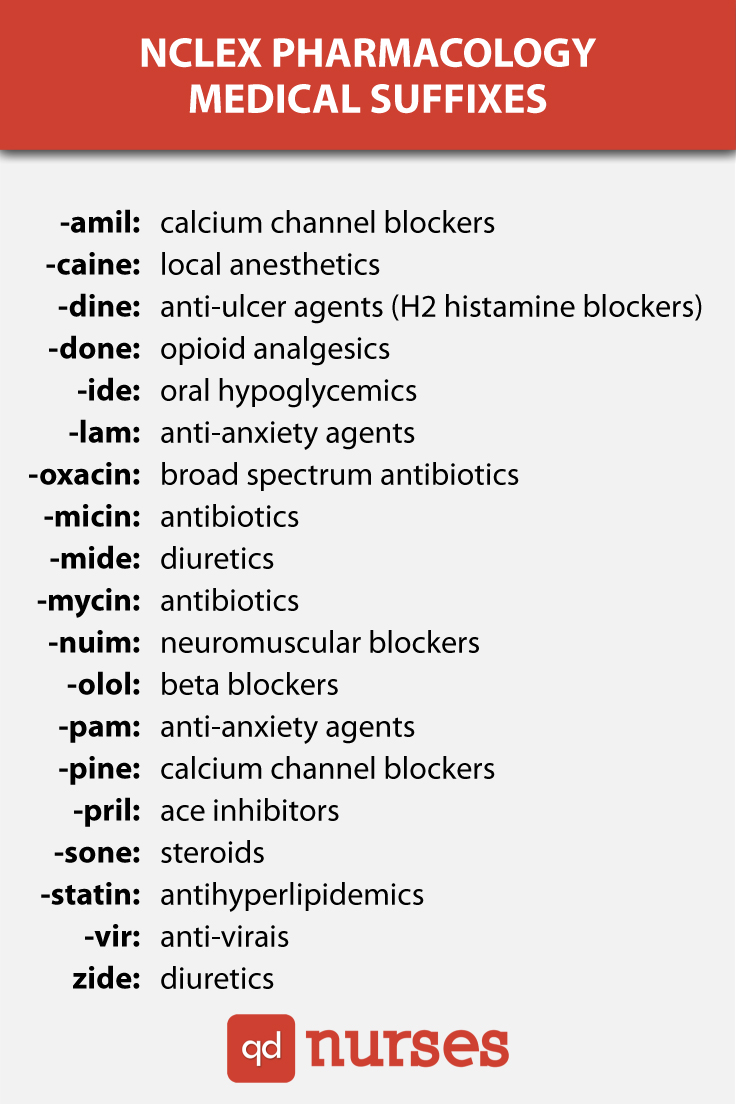 NCLEX Pharmacology Antidotes
Coumadin = Vitamin K
Benzodiazepines = Romazicon (Flumazenil)
Magnesium Sulfate = Calcium Gluconate
Heparin = Protamine Sulfate
Tylenol = Mucomyst
Opiates = Narcotic analgesics, heroin morphine, Narcan (Naloxone)
Cholinergic Meds = Atropine, pralidoxime (2-PAM)
Digoxin = Digiband
Acetaminophen = n-Acetylcysteine
Iron = Deferoxamine
Alcohol Withdrawal = Librium
Anticholinergics = Physostigmine
Beta Blockers = Glucagon
Methotrexate = Leucovorin
Anticoagulants = Vitamin K, FFP
Aspirin = Sodium bicarbonate
Calcium Channel Blocker = Calcium, glucagon, insulin
Cyanide = Tydroxycobalamin, any nitrite, sodium thiosulfate
Hydrofluoric acid = Calcium Gluconate
Insulin = Glucose
Isoniazid = Deferoxamine
Methanol = Ethanol
Ethylene glycol = Fomepizole, ethanol
Methemoglobin = Methylene blue
Tricyclic antidepressant = Sodium bicarbonate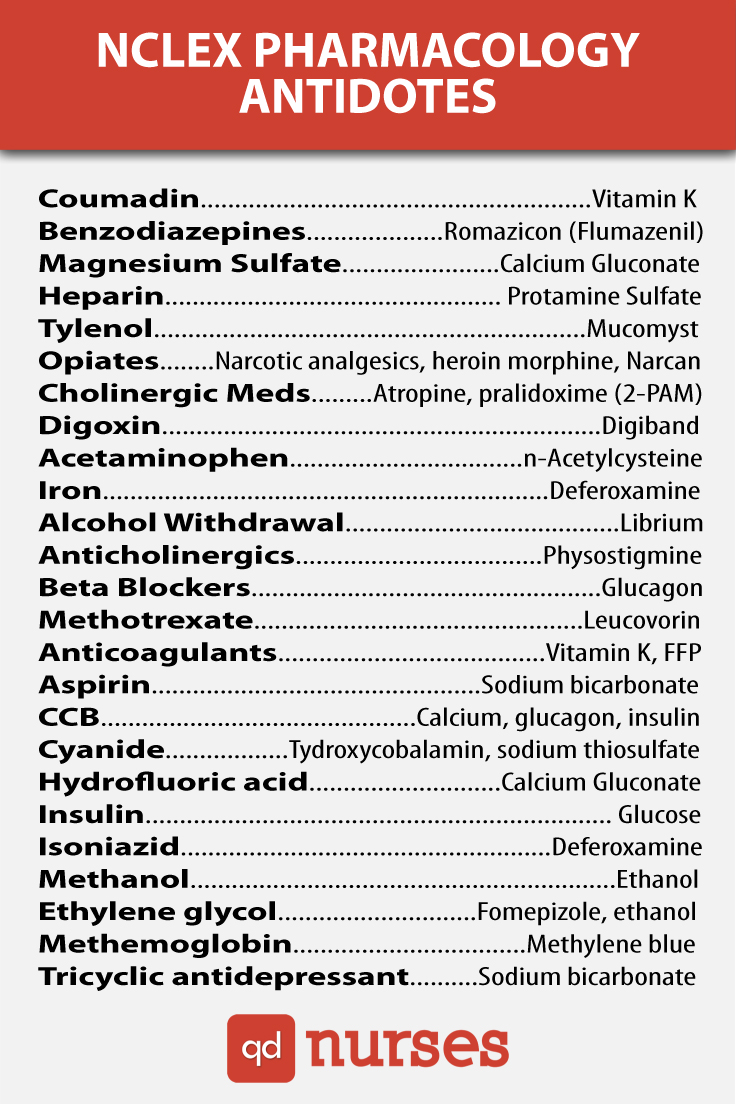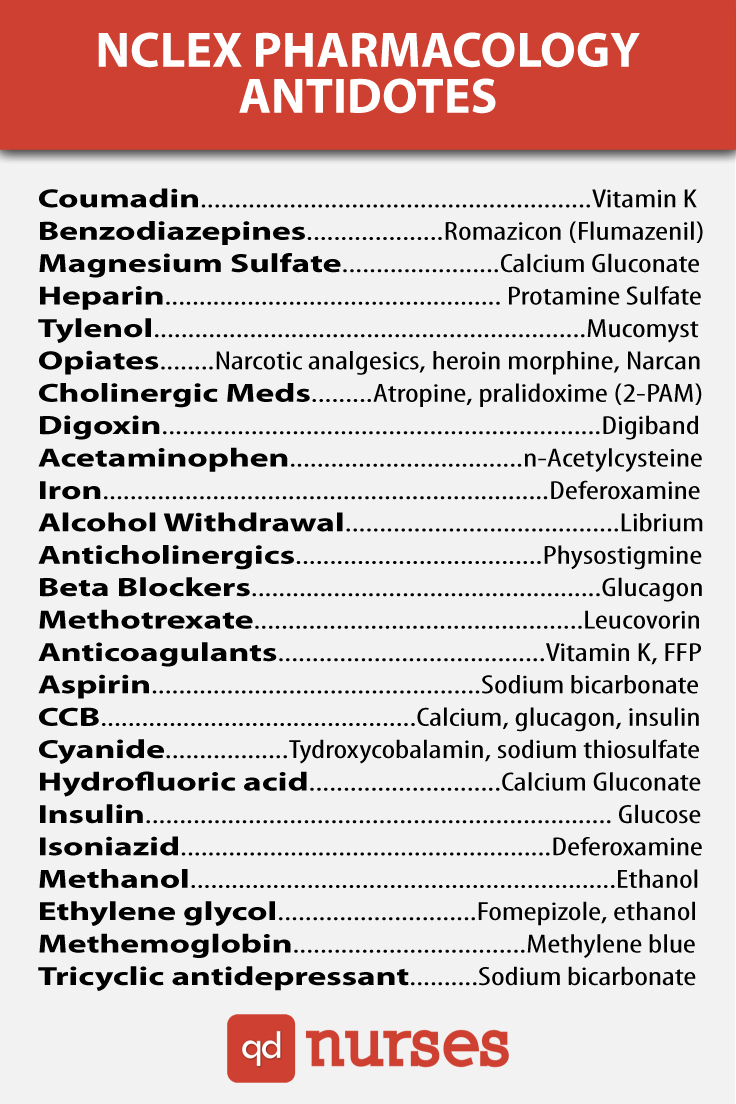 NCLEX Pharmacology Quick Tips You'll Need
Administer librium during alcohol withdrawal.
Antabuse is given for alcohol deterrence. Do not take over the counter cough medicine.
When taking hypertensive medications, teach patient about orthostatic hypotension. Patient must change positions slowly.
Administer diuretics in the morning so patient doesn't constantly wake up to urinate.
Do not given grapefruits with: Buspar, Veramapmil, Tegretol, and Simvastatin
Rifampin turns urination orange.
Digoxin = Side effects are increased when the patient is hypokalemic. Monitor the potassium. Digoxin has a negative chronotropic effect (slows the heart rate). Hold the dose if heart rate is less than 60.
Digitalis toxicity = bradycardia, tachycardia, dysrhythmias, nausea, vomiting, and headache. Contact physician as soon as possible.
MAOIs – Do not give food with tyramine as it may cause hypertensive crisis.
Do not give tetracycline at bed time. Do not let patients lie down because it might cause gastric reflux.
Do not give metformin to someone having procedures with contrast dye. Metformin can cause acute renal failure.
Drawing insulin – (RN), Draw up regular before drawing up NPH.
Never give potassium in IV push.
When giving loop diuretics, watch for potassium depletion.
Disulfiram is given to alcoholics to curb impulsive drinking.
Dopamine treats cardiogenic shock.
Propranolol is contraindicated in patients with bronchial asthma.
Anticholinergic effect – patient won't be able to spit, pee, poop, or see.
Carbamazepine is contraindicated within 14 days of MAOI

 

administration.
Anticoagulant drugs – Monitor PTT for heparin and monitor platelet count, bleeding, and s/s infection.
Carafate is taken before meals.
Tagamet is taken with food.
Antacids is taken after meals.